On demand printing is the biggest revolution in book printing since the Gutenberg press, making it convenient and affordable for self-published authors to print and sell their books straight to readers around the world.
In the past, self-published authors were plagued with large upfront costs, printing more books than necessary, and managing excess inventory on their own. Print On Demand erases those troubles with an efficient small-run printing process that still provides maximum exposure, but with more author control and minimal investment.
Why Pen2Print POD is the best way to deliver your printed books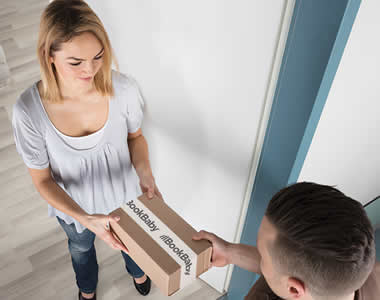 Low upfront costs: No inventory is needed so you can avoid having to purchase and store hundreds of books.
Your complete publishing solution: Add Print On Demand to any printed book order (of 25 or more), and we'll take care of everything—managing your book production, shipping, and—most importantly—paying your royalties.
Reach millions of readers: Your printed books will be available at Amazon, B&N, Powell's and thousands of other stores and wholesale bookstore catalogs like Ingram and Baker & Taylor, around the world. Just like the big-name authors!
Print On Demand is available for all of our most popular trim sizes, including Digest, US Trade, Small Square (perfect bound only), Square, Landscape, and US Letter.
Here's how it works
Your book is purchased
Customers order and pay for your book online through stores like Amazon, Barnes & Noble or wholesale book networks including Ingram or Baker & Taylor.
The order comes directly to us
We print, bind and package the order—even if it's just one copy.
Books are shipped
Printed books are shipped back to the retailer or wholesaler for fulfillment to their buyers.
You get paid
We collect the payment, deduct all printing and selling costs, and pay you the net sales.